Planet Karen
PLANET KAREN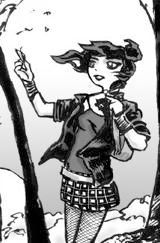 Planet karen its a comic that I liked since day one.
The webcomic its a daily blog about the life of the artist.
Karen as she faces her problems and adventures.
Every updates represents a day of the artist surviving her apartament , her dying social life or her problems making the
webcomic as it started as a printed fanzine
Unlike other biography webcomics the point of view of Karen
make the strip unique and interesting.
When I started reading the comic, I couldnt stop a feeling that I felt in a long time. Planet Karen its like potatoes chips you cannot eat only one.
One of my favorites things about the comic are the little moments of life a scary bathroom or when she was locked in her apartament because some city works,
I give planet Karen 5 of 5
Labels: webcomics planet karen